It's here! It's finally here! Friends, almost a year ago I applied to be a designer for the Junior League of Detroit's Show House, and was thrilled to have my design chosen for the main bedroom! I've tweaked and retweaked the mood board multiple times throughout the last few months, as its original opening date was May 9th. As you can imagine, that grand opening was canceled. It was such a punch in the gut. I was so looking forward to the big, formal gala, but clearly they had to do what's safest, and I'm so thankful that the Show House itself is moving forward and set to open to the public September 19th- October 4th! No fancy gala event, but all that matters is that we still get to transform this amazing historic home, and you'll get to see it! (Safely!)
The Designer Show House is Junior League of Detroit's principal fundraiser every two years. The funds raised support the JLD's local philanthropic efforts, including their main community impact initiative 'Project EAT' which provides Education, Access, and Tools to those in need. Through Project EAT, the League recently launched the Empowered Pantry, which provides over 25,000 annual meals, nutrition education, and cooking tools for employees of The Empowerment Plan. Future plans include the creation of additional pantries to serve food to families in need across metro Detroit.
A little background on this home…
At 16,000 sq ft, the Bingley Fales House is the largest residence in the historic Indian Village neighborhood of Detroit. There's 10 bedrooms, five full bathrooms, and two half baths. The 1907 built Georgian-style mansion is set on two acres of land, which includes formal flower gardens, hardscape pathways, a trellis covered lanai, a fountain, and a reflecting pool. It's gorgeous! With SO much potential!
Speaking of potential, shall we get to the photos of my space?
Well, yikes to the condition. Lol But can you even handle this space? The wood work! The bay window! It's just so good! Let's get to what you've been waiting for…
The Plans…
I've been drawn to a green/yellow color palette combo for a while now, and I'm so happy to have the opportunity to incorporate it into a space I'm working on! Let's talk about what's going where.
The walls…
All of that gorgeous wood work will be painted Essex Green by Benjamin Moore in high gloss! Thibaut is providing the fabulous Grassmarket Check wallpaper for the upper part of the walls! It'll be a tone-on-tone moody DREAM! Until the ceiling that is:)
The ceiling…
That bright, happy floral paper (also from Thibaut) is going on the ceiling! And look what else…
I've been obsessed with this light (gifted by Build.com) forever. Can't wait to see it in this space! I wanted something grand and fun. This fits the bill.
The bay window…
Scroll up and check out that super fun yellow, geometric velvet fabric from Calico Corners. They're making a custom bench cushion for the bay window and that's the fabric that I've chosen for it. They're also making custom Roman shades in the neutral textured fabric. I knew I already had three colorful patterns going with plaid walls, a floral ceiling, and a geometric bench. I wanted to keep the shades simple. There's still interest with texture and pattern, but it remains neutral to give your eyes I break.
The furniture…
Super thankful to Universal Furniture for providing the major pieces in this room! The bed is so chic and sophisticated!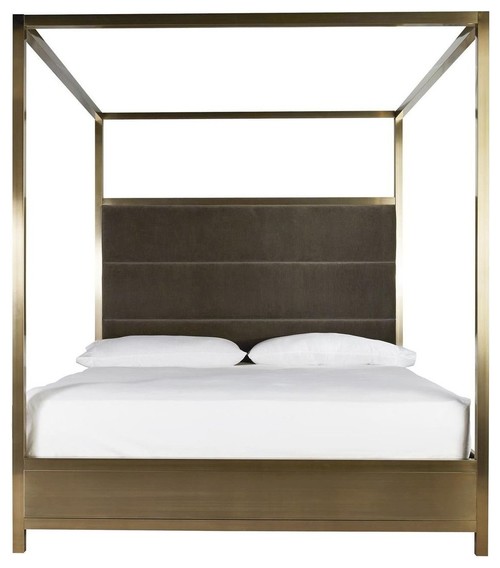 Can't design a bedroom without good storage. Click here to find the dresser and here for the cabinets. Not shown in the mood board is this fabulous leather chair going in a corner.
The bench at the foot of the bed is from Safavieh, and you can find a link to it here. I've painted the base black so that the two different golds don't compete.
Accessories…
Friends, I've had a crush on this Kelly Wearstler lamp FOREVER. City Lights Detroit is a fabulous local lighting vendor, and they're kind enough to lend it to me for the show house. Is it weird that I feel like this lamp will be a famous person in the room???
Art is still in the planning stages, but it's all from Artfully Walls!
Ok, let's talk about the rug! It's different than the one in the mood board. I found this one late in the game, but oh my goodness, the shade of yellow is rich and fun without being juvenile. It's exquisite in person! And from the fabulous people at Ghiordes Knot at the Michigan Design Center.
Also not seen in the mood board is a fabulous full length mirror from Howard Elliott. I considered both of these…
So torn with this. I've always loved a good ornate mirror, but I've been drawn to simpler things lately. We'll see.
Some tweaking…
What's in question? What I'm putting in the bay window. I LOVE the ochre/mustard chairs I have on the mood board, but they just went out of stock before I could order them! (Of course they did). I envisioned a nice place to sit with your morning coffee, or even a place to set your laptop and do some work. I'll either choose other chairs, scrap the chairs and table idea and put a chaise, or forget it all and leave the window seat just as a window seat with nothing obstructing that nook at all. I'll have to feel that one out as I go along. Perhaps the room isn't as big as I remember and I need to not over stuff it? We shall see!
Ok, friends! That's it! That's my heart and soul over these last few months! I hope if you're anywhere near the Detroit area, you consider coming! Click HERE for information about tickets! And if you aren't local, be sure to follow along on Instagram @haneens_haven, as I'll be documenting it all along the way.
Before I go, just want to give a HUGE shout out to Frog Tape® for sponsoring this project! My painter is happy to use the best painter's tape out there.
Shop the room…

Cheers!
Haneen